News
01-27-2013

New Books

Visit the Books Page on the homepage to See our Latest Releases
Go to Article Index
Book Published by EZ3DBIZ.com:
The Complete Guide to Natural Toothache Remedies and Re-mineralization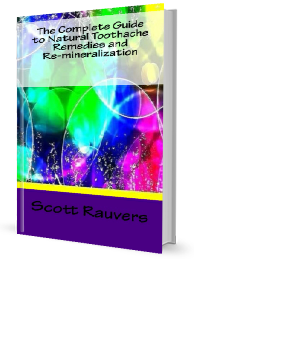 For those of you that have read many of my articles, you know that I sometimes go on chocolate binges. The good thing is that as covered in my
previous article
on naturally healing teeth,
I now have the permanent ability to not get cavities or suffer from toothaches or related pain.
use these techniques I am about to mention to stop the aching tooth permanently, which can range anywhere from 3 months to 6 months or more, depending on the rising dew point. (Rising DewPoint always seems to cause toothache, especially if the weather becomes warmer).
My other article
uses clay to instantly remove toothache, however I have had success using this method I am about to share.
So now I am going to cover my most up to date version that works (as of June 2014), which is a combination of my past techniques and is more refined and quicker. I also still have my cracked tooth, which I have had for 2 years and still don't need to go to a dentist even sometimes when it swells, which luckily is very rarely. I am vegetarian, except for eating Sardines every few days.
First of all, I relax and take off the amount of stress in my body. This involves rest. I thank go on a mini fast and increase my intake of lots of spring water or other purified water. To half a gallon of water I will add 5 drops of
Ormus
. The excess water flushes
out many of the toxins.
My mini fast means no breakfast and I only eat 2 grapefruit with honey for lunch and take lots of water in-between.
I will than take this with up to 4 ounces of honey over the next hour. The honey is taken with lots of spring water, when taking the Carnosine Capsules.
I also take a Vitamin D3 capsule with the Carnosine.
During this time I will also visualize my tooth being surrounded by a golden healing light, nurturing and healing the tooth.
So far using this and
other methods
,
I have had no need to visit a dentist for the past 5 years, and this includes having a cracked tooth for the past 2 years.
For Lunch, I have grapefruit. Grapefruit is one of the most powerful foods to detox artificial sugars from the body naturally and quickly. Taking a vitamin C capsule also boosts the beneficial effects of the grapefruit. There are numerous webpages showing that
Grapefruit is successfully used on a Sugar Detox Routine
, along with Kombucha and Pumpkin Seeds.
I also noticed that after eating a minimum of 3 grapefruit over a 12 hour period, my sugar cravings have completely disappeared and

this has also been confirmed with other people

who mix Sesame Seeds with grapefruit. (Note: Grapefruit amplifies prescription drugs so be careful if you are heavily medicated).
For dinner I will have sardines with cottage cheese, which will synergize with the Carnosine later as I am sleeping.
Other Helpful Tips
Also another method that also helps is to include vitamin C capsules and 2 Cod Liver Oil Capsules which I cover in my
earlier article
.
Swishing my mouth with water after each meal like oil pulling also helps remove unnecessary bacteria. I used to use Sunflower Oil for oil pulling, but now use water, probably because the Carnosine is helping more. Also eating raw parsley or drinking it with hot water helps flush a lot of toxins from the body while doing this process.
Hope this contributes to many of you who want to avoid the dentist, or might live in a remote area and don't have access to one.
Continued Health to you all!
Scott
www.ez3dbiz.com
Thank You for visiting our site and reading our articles and new update. If this information has helped you or someone you know, please consider contributing to this site. Your contribution will ensure the continued publishing of unique and quality articles at no cost to all of our visitors and regular readers.