News
01-27-2013

New Books

Visit the Books Page on the homepage to See our Latest Releases


Analysis of Solar Weather and the December 2nd, 2015 San Bernadine Massacre
This event killed 14 people and severely injured 2 others. Solar conditions once again played a major role in this vicious attack. Once again we can see that a strong condition orange occurred.
A condition orange is where sunspots or the Sunspot Area Hemis, which is a decline in sunspot activity occurs. The other main factor present are higher solar wind speeds above 480 or more and a peak or increase in KP activity (also known as earth's geomagnetic activity).
Let's take a look at the numbers:
Below are sunspot levels. Sunspots dropped for 3 days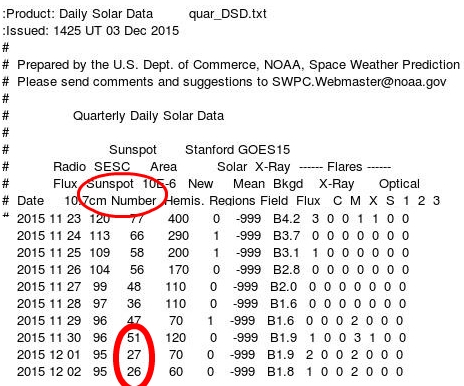 Solar Wind approached high levels (above 470). Solar Wind Speed is shown below.

>
KP Activity (earth's geomagnetic activity) was in a peaking period above normal levels. KP Activity is shown below.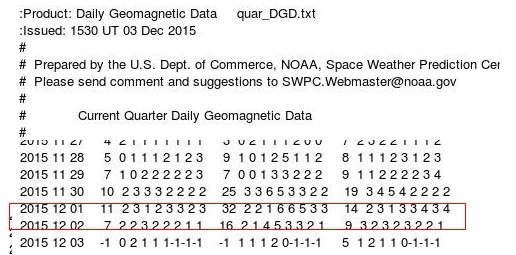 Solar Resources and Data
Solar Wind
http://www.swpc.noaa.gov/products/ace-real-time-solar-wind

KP
ftp://ftp.swpc.noaa.gov/pub/indices/old_indices/2015Q4_DGD.txt

Sunspot
http://legacy-www.swpc.noaa.gov/ftpdir/indices/old_indices/2015Q4_DSD.txt
Please note NOAA archives the most recent activity in quarters so after a few months you need to look at the archive to retrive the data.
back to analysis page
Thank You for visiting our site and reading our articles and new update. If this information has helped you or someone you know, please consider contributing to this site. Your contribution will ensure the continued publishing of unique and quality articles at no cost to all of our visitors and regular readers.