News
01-27-2013

New Books

Visit the Books Page on the homepage to See our Latest Releases
Solar Condition Analysis of the September 16th Naval Shipyard Shootout Return to Homepage
Related Articles:
In-Depth Condition Color Details
Solar Conditions Parameters Page
Condition Color Archives
This is a basic analsysis of the solar conditions from the September 16th, Navy Yard Shooting in Washington D.C. based on the
parameters page
As we can see below, we had the 3rd day of declining sunspots, high solar winds and a peak in KP levels. There was also a drop in X-Ray background levels and it was also a period of prolonged
condition purples.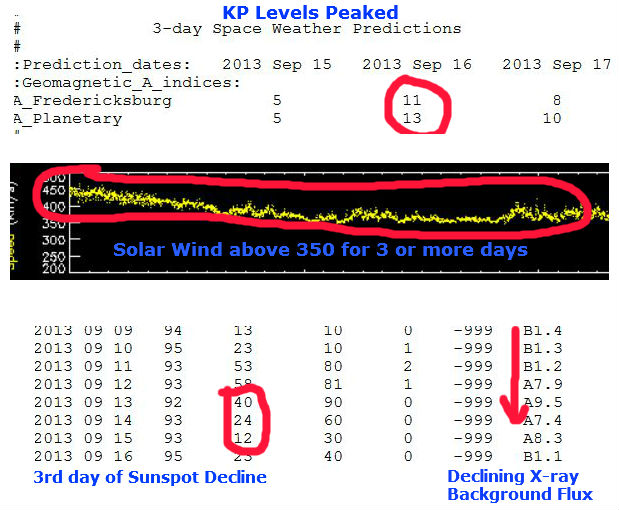 References:
KP LEVELS
Solar Wind Speeds (yellow line)
Sunspot Numbers
While we can only speculate, I believe that proteins are playing a part. Proteins express themselves through human behavior at high KP levels. If you eat lots of meat, it may express itself through violence and low vibration thoughts. If you get your protein through plant based foods, it expresses itself through thoughts of a higher vibration such as peace, kindness and progress, rather than destructive violence.
Thank You for visiting our site and reading our articles and new update. If this information has helped you or someone you know, please consider contributing to this site. Your contribution will ensure the continued publishing of unique and quality articles at no cost to all of our visitors and regular readers.